Vegetarian food in Morocco is a delectable mash-up of several civilizations, with strong influences from the Mediterranean, Arabic, Berber, and Andalusian cuisines. Its traditional recipes are a one-of-a-kind combination of spices, fresh vegetables and fruits, and, of course, meat and fish. Yet it doesn't mean vegetarians will have a difficult time in Morocco.
A traditional Moroccan lunch starts with a variety of hot and cold salads made from raw and cooked vegetables. The classic tajine, a meat and vegetable stew made in a cone-shaped clay pot, follows. The tajine's particular components (which may contain a variety of spices) will vary based on regional and seasonal differences. This is served with bread, a spherical Moroccan khobz that also functions as a utensil. The dinner concludes with a cup of mint tea made with green tea, fresh mint sprigs, and loads of sugar.
Vegetarian food in Morocco enjoys a variety of great alternatives within these traditional feasts. Increasing tourism in the nation has made the food sector considerably more conscious of vegetarianism, adapting many of Morocco's most traditional dishes to vegetarian diets and producing new ones to meet the demands of all Moroccan visitors.
Vegetarian food in Morocco
Tajine au legumes, for example, is a delectable variation on one of Morocco's most classic meals. This tajine is 100% meat-free and 100% Moroccan, made with a range of vegetables such as carrots, zucchini, eggplant, potatoes, and more. Delicious spices enhance the taste.
Couscous is another hallmark of Moroccan cuisine that vegetarians may enjoy. Couscous is a Moroccan dish that is traditionally served on Fridays and special occasions. It is made with slow-cooked vegetables and meat. Nonetheless, couscous with vegetables offered totally meat-free is a veggie-friendly choice that is growing increasingly popular in Moroccan restaurants.
Vegetarian cuisine in Morocco is simple to get if you know where to search. La Famille is a lovely vegetarian restaurant in Marrakech that serves lunch every day (except Mondays). Riad Zam Zam has great vegetarian meals and may accommodate individuals with dietary concerns such as gluten-free. Vegetarian visitors to Fez should stay at Riad Dar Dmana, which serves vegetarian cuisine for supper. Throughout the day, Café Clock serves vegetarian fare. For delicious Vegetarian food in Morocco Essaouira try La Petite Perle or the restaurant of the Lalla Mira hotel.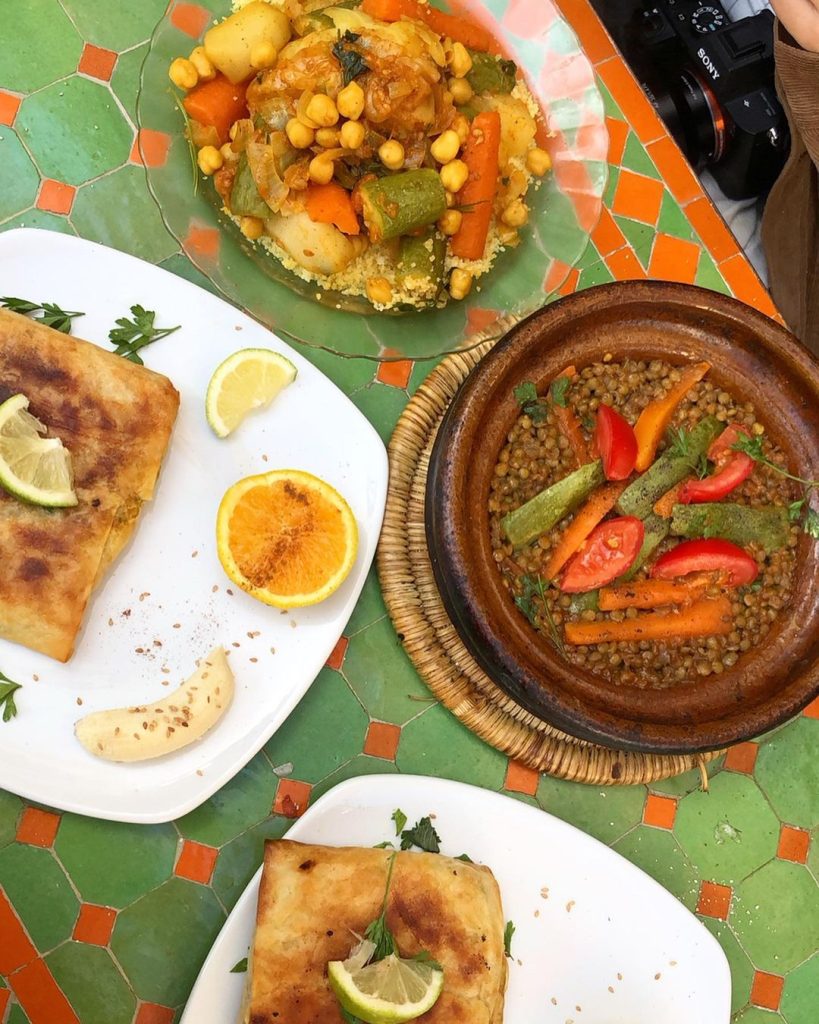 Quick Hints
Pick a riad with a restaurant for your stay. Riads are historic Moroccan residences that have been converted into boutique hotels or guesthouses. Several of them offer restaurants, and the staff will gladly accommodate your dietary needs.
Consume plenty of breakfast: Bread with honey or jam, omelets, Moroccan pancakes, and crepes are all classic Moroccan morning items. In the worst-case situation, if you're worried about not being able to locate vegetarian food throughout the day, a hefty breakfast will keep you satisfied for hours.
Shop at the local markets: If you're staying in self-catering accommodation, visiting the local souks will be a fun and practical way to guarantee that all of your meals are veggie-friendly. You'll find a variety of intriguing spices and oils to season your vegetarian foods, but you'll definitely need to learn how to bargain first!
Have a phrasebook in French and Moroccan Arabic with you. It will be useful if you need to explain the components of a particular dish or make a special request at a restaurant or café.
Take your business global. Even if there are no vegetarian alternatives in Morocco, you can still travel across this amazing country without being hungry. Morocco's largest cities have a plethora of French, Italian, and Spanish restaurants that provide a variety of vegetarian cuisine.
Book your desert tours with Morocco Sahara Trips
Vegetarian food in Morocco Traditional Cuisine
Taktouka – sautéed tomato and pepper salad
Zaakook – sautéed eggplant and tomato salad
Moroccan salad with cucumber, tomato, and lettuce
Vegetable Tajine
Vegetable Couscous
Bs'sara (a fava bean soup) (a fava bean soup)
Harira (a soup, may be with or without meat) (a soup, can be with or without meat)
Loubia – spiced white beans stew
Ad'das are spiced lentils cooked in a tomato sauce.
Ma'akouda are spiced potato patties that are fried and served in a sandwich.
Here are some vegetarian menu options you could discover. If you don't see them in the menu, you may request them. Some of these goods aren't always available, but if you inquire, you can usually find them. Sadly, many Moroccans consider these delicacies to be "low class," and visitors are unlikely to consume them.
Whether you're a carnivore or an omnivore, there are lots of culinary alternatives in Morocco. We can assist you not only see wonderful sights but also eat properly! Let us assist you in starting to organize your trip right now.